2 FREE SET UPS! on ANY screen printed beach towel with a minimum of 72 pieces!
What a GREAT IDEA for your Company Outing, Summer Camp, Fund Raiser, Community Pool...
Anywhere you are OUTSIDE! Wait a minute...
How about adding a nice LARGE TOTE or COOLER ? Maybe some SUNGLASSES, Custom FLIP FLOPS,
Beach Toys, MISTERS or SUN SCREEN!..
Just think of all the FUN you're going to have this SUMMER! Offer ends May 15th

Tailgater Trunk Cooler Organizer SALE $20.68 ea.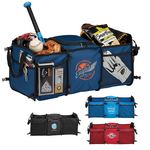 Tailgater Trunk Cooler Organizer
Trunk Organizer with three large compartments to organize, transport or store belongings. Cooler compartment with removable liner for easy cleaning. Multiple exterior mesh pockets for easy access and ...
$22.54 - $29.40
Avalon Promotions
Its almost SPRING! -GET READY to be OUTDOORS! Golf, Summer Camp, Picnics... YEAH!
ORDER ONLINE 24/7!
Our objective is to keep your name top-of-mind!
We are here to help you plan for:
Events
Business Gifts
Trade Shows
Employee Recognition
Sports Tournaments
Company Outings
Premiums and Incentives
Service Awards
Recruiting and Retention
Thank you programs..
And so much more!

Avalon Promotions encourages you to...
imprint, improve, impress!

(888) 288-1324

Member: ASI 444093, PPAI 412496, AIA Affiliate
A Service-Disabled Veteran-Owned Small Business SDVOSB
Promotional Marketing Distributor:
We coordinate your "art" (logo or message) with screening, printing, embroidering, engraving, debossing and embossing on apparel, plastics, metals, glass, paper and other surfaces for advertising and marketing purposes.

Our pricing is most often less than online only companies AND we will do your sourcing to ensure your product choices are your best options. We know from over 30 years of experience who makes the best quality/best value products. Let us help you and save money for your business too.

Recent Facebook Posts by Avalon Promotions.